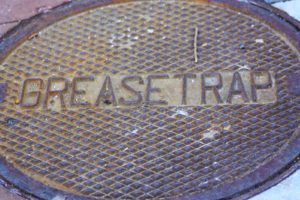 If you're a food retailer, you probably have a grease trap on your premises that needs to be emptied regularly.
Because commercial kitchens in restaurants and shopping centres generate large volumes of liquid food waste, there are a few reasons that it's important that your grease trap is operating properly all the time—and why it's just as important to schedule regular servicing to maintain it in good working order.
Preventing blockages
All food-processing facilities generate large volumes of thick liquid waste that has the potential to cause major plumbing issues if it's not properly taken care of. Even if you only have a small grease trap, it's still important to have it pumped out regularly.
If you don't have your grease trap emptied often enough, it can cause bad smells, which can obviously affect the trade of restaurants and food retailers. But it can also lead to serious plumbing issues and blockages.
Regular maintenance and pump outs can prevent your grease trap systems from putting your business at risk of flooding, and potentially save you tens of thousands of dollars—or even protect you from the loss of your business.
Blockages also cause overflow into sewerage systems, not just causing extensive damage in the plumbing, but putting your business at risk of polluting the waterways.
Regular maintenance and servicing can ensure that your grease trap is working the way it should, and that you're safe from breaching the legal requirements of running your business safely and hygienically.
Meeting regulations
All restaurants and food processing facilities in South Australia are bound by the rules of the EPA and SA water for liquid waste disposal.
Adelaide business owners are all responsible for meeting these obligations to ensure that they're not putting themselves, their workers, their customers, or the local people at risk of danger from health issues or environmental pollution.
Part of your compliance with these guidelines involves servicing your grease traps about every quarter. 
There are different rules for each premises about the kinds of grease traps that are appropriate for the business, and how often they need to be serviced.
It's important to know what your responsibilities are, but if you're not an expert, that can be a challenge.
The best way to make sure that you're complying with the terms of your permits is to hire a professional liquid waste removal company to service your grease traps according to the industry and government protocols.
That way, you always know it's done properly, and you'll have a guarantee that you'll pass the relevant inspections when the health department audits your business to make sure you're operating safely.
Regular servicing
It will depend on the type and size of your business's system, but most grease traps should be pumped out, cleaned and serviced around every 3 months to comply with the rules for grease trap cleaning in Adelaide.
A complete service involves collecting and disposing of the grease trap waste, scraping and cleaning the baffles to remove reside that can cause blockages, and deodorising the system to prevent bad smells.
But in order to meet health and environmental authority guidelines, the waste needs to be transported in an approved vehicle to an appropriate facility. The grease trap also needs to be inspected, and the service should be documented properly—which is why it's always best to rely on an experienced and professional wastewater removal team.
At Nitschke Liquid Waste, we're fully accredited to provide a complete suite of grease trap cleaning services. Adelaide businesses can maintain compliance with the guidelines of the EPA and SA Water by collecting and discharging liquid grease trap waste quickly, safely and responsibly—and it's easy with our fleet of vehicle specially designed vehicles and fully qualified professionals with over 20 years of experience in the industry.
We can also schedule regular servicing to make sure you meet the terms of your permits and the regulations of the health department—our service is South Australia wide and we specialise in the Areas of Adelaide and the Adelaide Hills and all the surrounding areas of Murray Bridge, Mount Barker, Strathalbyn, Victor Harbour, Kersbrook, Glenelg, Salisbury, and Gawler, so contact us anytime to find out how we can help you.