SA Water Requirement – The new WasteId System and does Nitschke comply?
ABSOLUTELY! The team here at Nitschke Liquid Waste is dedicated to providing the very best to our customers, and we are committed to ensuring we maintain the highest standard of service in grease trap cleaning and pumping. Our liquid waste operators are now fully trained to comply with this new SA Water requirement.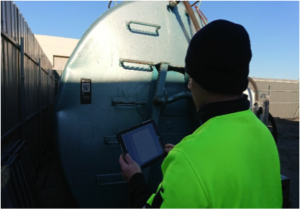 We believe that it is important for our customers to understand the new guidelines provided by SA Water, and what it means for you. Basically, this new system means customers will be required to use a licensed hauler to transport their waste to a licensed disposal facility, as and when required by SA Water, to have fewer fat chokes in the sewerage network. The SA Water website has information available at https://www.sawater.com.au/business/trade-and-liquid-hauled-waste/trade-waste/grease-arrestor-maintenance-app regarding the maintenance of your grease trap, and the new QR2id/WasteId system, which can be either viewed online or downloaded.
Most businesses with a pre-treatment grease trap device would have received a letter recently outlining the new system, and how SA Water will be managing this for you. They will essentially be providing you with a notice that your grease trap needs to be cleaned, and give you a set time period to organise this to be done.
SA Water is responsible for providing the QR2id tags (or barcode) for all pre-treatment grease trap devices (grease trap/arrestors etc) and every one of these devices will be tagged with their unique ID to be monitored under the new system. You, our customer, are responsible for having a registered hauler to provide your service, and we, your registered hauler, are responsible for making sure our vehicles are tagged to accurately record the collection and disposal data.
SA Water is responsible for providing the recommended frequency of service to you. This information is also available via the WasteID app, and that is how often you should be having your grease trap cleaned. We can make the process much easier when it comes to your grease arrestor maintenance by managing the schedule for your grease trap cleaning, and by using the QR2id app to scan the tag. When the tag is scanned, it electronically uploads the confirmation of service into the WasteID program, which is the platform that collects and holds the service information. This confirms to SA Water that the grease trap has been pumped out, and transported by a registered hauler, and then ultimately disposed of at a licensed facility.  This is an extremely important process to make sure everyone is compliant, which results in having a cleaner sewer system in South Australia, which in turn benefits all South Australian residents.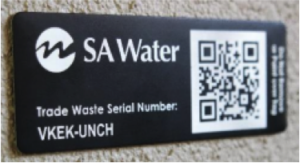 The new process also aids in eliminating some of those "cowboys" in the industry who will promise to clean your grease trap for a fraction of the cost of what others may charge, but in doing so will spend only a fraction of the time on your service. This means you get a sub-par clean which may result in an overflow situation resulting in lost income for your business, and in addition to the inconvenience this may cause for you and your workers, it also means that often the waste is not disposed of in an environmentally friendly manner. This non-compliant type of service means the EPA and SA Water need to monitor things more closely which causes SA Water to have to audit more frequently at additional cost to each customer.
We are a local South Australian family business, servicing all metro Adelaide, Adelaide Hills, and the surrounding areas such as the Fleurieu Peninsula, rural northern areas such as Two Wells, Gawler and into the Barossa for all liquid waste services including Adelaide Hills septic pumping, trade waste, oily water as well as grease trap pumping.