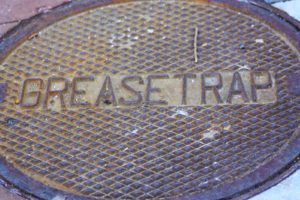 Just some quick tips to help prevent loss of income due to kitchen flooding and reduce emergency call outs.
Our vacuum truck operators see this time and time again when they are called out to do an emergency grease trap pump out, or emergency grease trap arrestor cleaning around Adelaide.
Looking at the first picture you can see that smelly, greasy and oily water from the kitchen is flowing out onto the restaurant walkway.  This is all taking place during the restaurant's prime time for service.  The patrons of the restaurant complained of foul odours and leaking sewerage.
An emergency call was made to our office and a Nitschke Liquid Waste vacuum tanker was dispatched to perform an emergency grease trap pump out.
As you can see in the next picture the Nitschke Liquid Waste vacuum truck operator vacuumed out the oily waste water revealing the grease trap lid.
Picture 3 shows the vacuum tanker operator removing the grease trap lid and exposing the cause of the flooding.
When it comes to grease trap cleaning for restaurants our vacuum truck operators are highly trained and pay full attention to detail. It is the Nitschke liquid waste service to fully clean your grease trap, clean out your grease trap filter, deodorise your grease trap, replace all lids and report back to our office on any repairs needed or any additional advice on grease trap maintenance required. Nitschke liquid waste also provides a filter replacement service if it is reported that your grease trap filter is damaged.
The last picture shows that our grease trap pumping and cleaning service not only cleans your grease arrestor but also fully cleans and degreases your grease trap filter.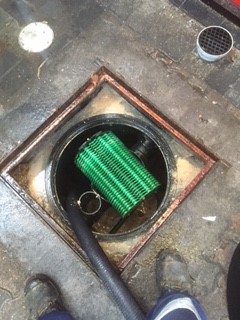 The report from our grease trap cleaning technician, was that Lid, trap and grease trap were all in good working order. It was suggested that the twice yearly service be increased to a scheduled quarterly grease trap clean to reduce the chance of flooding.
So when it comes to grease trap cleaning for restaurants in South Australia make sure you have the Full Nitschke Liquid Waste Service. Our operators go out of their way to ensure your kitchen's grease trap is flowing correctly. Call Nitschke on 08 8260 7660 for further details on Adelaide's own grease trap cleaners.